The natural beauty and biodiversity at Lee Point is under threat.
FEDERAL ELECTION – LEE POINT SURVEY RESULTS
Your NT candidates for the Senate and Solomon were asked;
If elected "will you support a moratorium on the current DHA housing development at Lee Point until the Public Works Committee has completed a comprehensive report on its public benefit."
Read the responses from NT candidates for Senate and Solomon
It appears that most support a pause in the controversial Lee Point development.
Why is it controversial? Read more
Authorised by I. Redmond – Friends of Lee Point, Darwin NT, m 0427 796 470
PLEASE SIGN THE PETITION CLICK HERE
Entries close 28 May 2022
Darwin needs sustainable development. Government should not be subsidising an urban sprawl at Lee Point that destroys some of the last intact tropical habitat in Darwin and compromises the tourism industry.
The petition calls on the NT Parliament to: "place a moratorium on the current development proposal for Lee Point until the NT Planning Commission has developed a comprehensive Area Plan for the whole of Lee Point."
If you don't agree with having lots of housing at Lee Point please write a letter to your Elected Representatives and media  It's time that government explained to Darwin residents why housing thousands of people at Lee Point will be good for Darwin in the long term. 
The NT Minister for Lands, Planning and Environment can stop the current Lee Point development, and has the powers to revoke or modify development permits and amend the NT Planning Scheme, read Save Lee Point – FAQ or print FAQ pdf copy. The Minister is allowing this development to proceed and ignoring the significant issues outlined below.
Planning for Lee Point explains why we need a comprehensive Area Plan for the whole of Lee Point. Most people are not aware of the NT Government's 2015 Lee Point Area Plan, or that this plan leads to a significant portion of Lee Point being bulldozed for housing. Nearly everyone who is aware of this plan does not agree with it, read Letters to the Editor – NT News Friends of Lee Point (refer Campaign Page) believe this is a much better option – Lee Point Area Map 
City of Darwin voted overwhelmingly  (11 for and 1 against) in favour of saving Lee Point on the 12 Oct 2021 and have made a similar request to the petition (see above) to the NT Government. Copies of talks are at: City of Darwin Motion Talks – Save Lee Point
BACKGROUND
Lee Point is an irreplaceable asset that contains over half of Casuarina Coastal Reserve (CCR). CCR attracts over one million visits each year because of its natural beauty and rich biodiversity. Friends of Lee Point (FLP) is a non-profit Darwin community based group seeking to protect the Lee Point environment and our quality of life.
The Lee Point Area Plan approved in 2015 (without NT Planning Commission involvement) allows housing at Lee Point. This Plan is focused on the disused Defence land. Defence Housing Australia (DHA) which is wholly owned by the Australian Government has proposed a development (see below) to house thousands of people at Lee Point. 
Housing at Lee Point is unnecessary and will lead to:
Traffic congestion, 

increased travel time,

car dependency,
increased CO2 emissions,

considerable loss of habitat and wildlife, and

significant costs for the taxpayer.
In short, it leads to an urban sprawl ; refer to INFO page.
Much better housing options exist eg. Northcrest (Berrimah Farm) which fit the Australian Government's Smart Cities Plan
A comprehensive Area Plan for the whole of Lee Point is needed
We need your support to make this happen.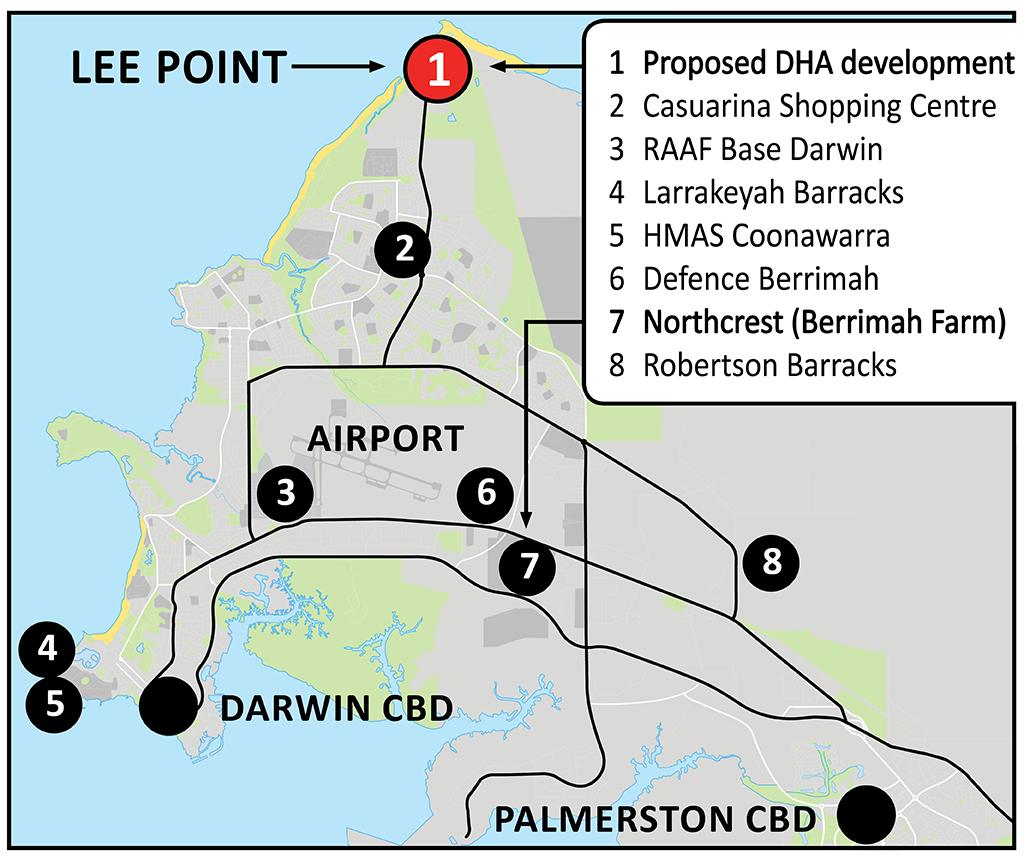 About one square kilometre or 20% of Lee Point will be cleared under the 2015 Lee Point Area Plan including the habitat below.
The endangered Black Footed Tree Rat relies on this type of habitat and has been recorded in the area.
Please sign the Petition – Click here
Sign up for our Newsletter – Click here
Donate to the fighting fund – Click here
Community Support is vital in this type of campaign. We need you to stand up and be counted!