Greetings Friends,
This newsletter includes; Colour My World and Gouldian Walks, Disappearing woodland, plants and wildlife.
1.0 Colour My World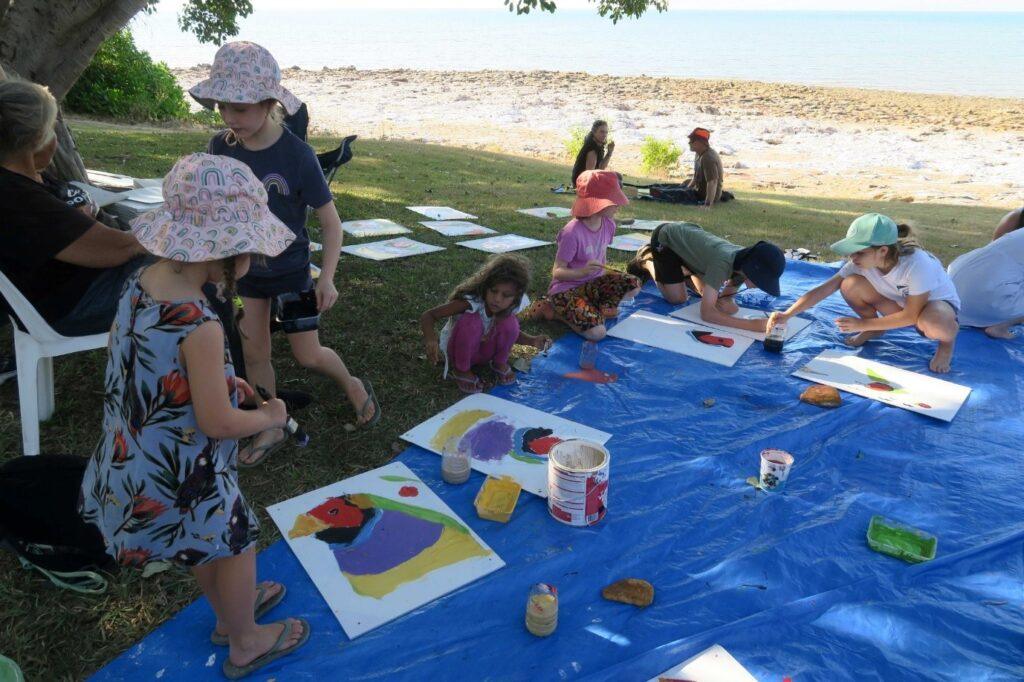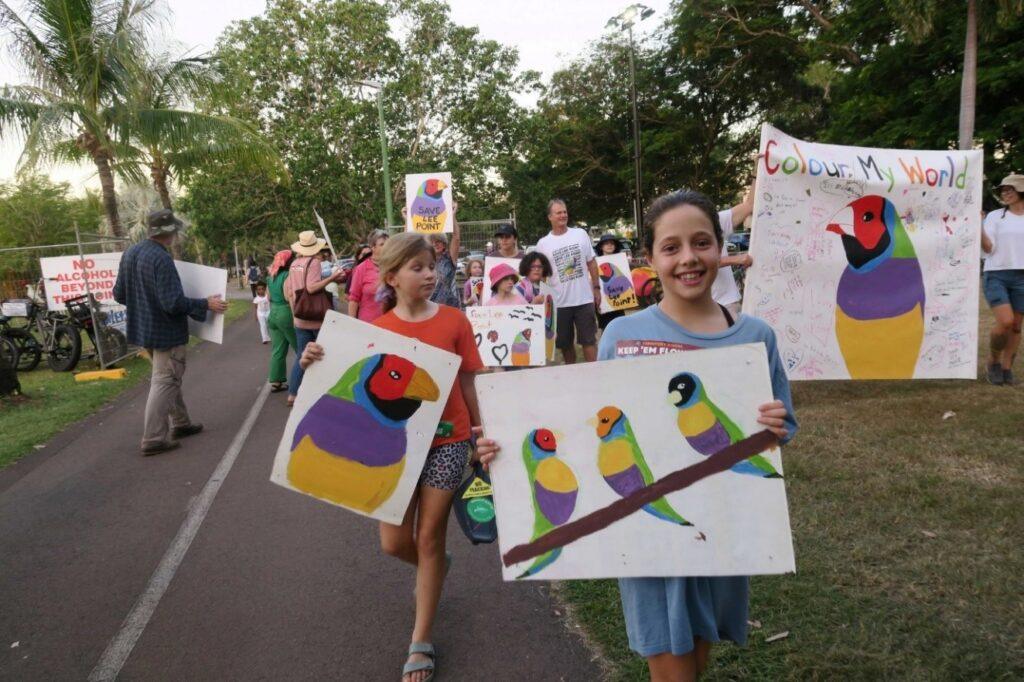 FLP, Planning Action Network, ECNT and BirdLife Top End held a Colour My World event at the Nightcliff Seabreeze festival on 13 May. Lots of finch painting happened and even a bit of singing – it was exciting!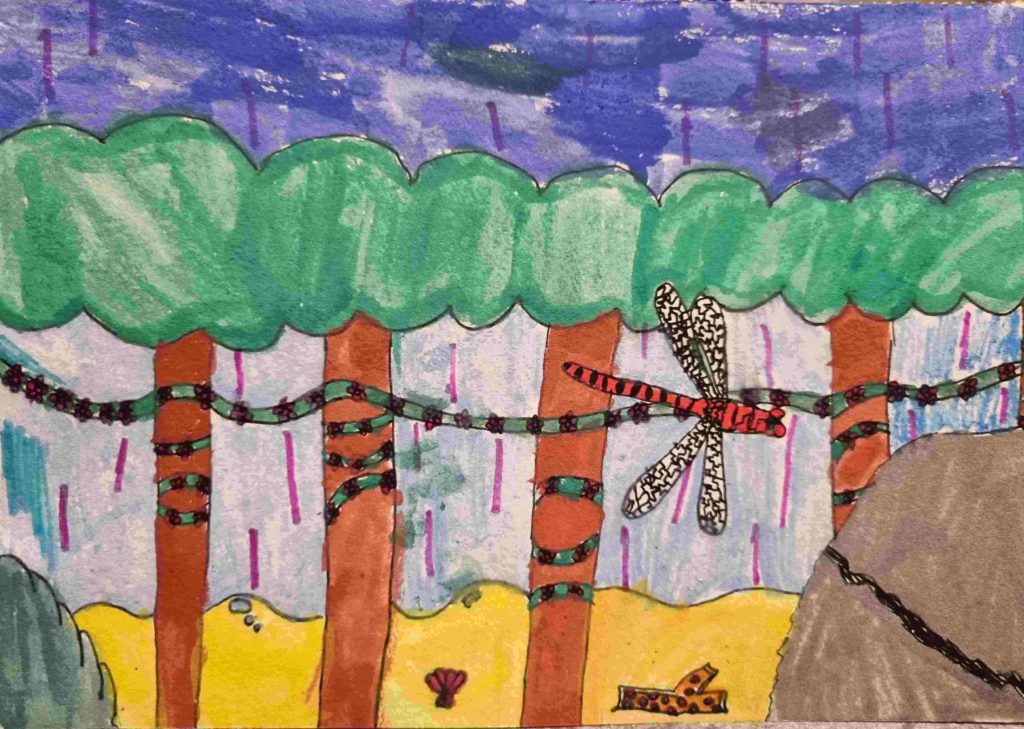 May image from the 2023 Lee Point Calendar
Gouldian Walks – There were self-guided walks around Lee Point Dam 6-7 May and more planned – please check FLP Facebook Page for details. No gouldians sighted yet but hopefully they are not too far away.
2.0 Darwin's disappearing large woodland trees
Large woodland trees (LWT), typically Darwin stringybarks, woollybutts and bloodwoods over 35cm in diameter, are important because they contain tree hollows. Without LWT many of our native species will not breed.
The Sugar Glider and Red-tailed Black Cockatoo rely on LWT (tree hollows).
Having quality woodland in Darwin makes life better for people and wildlife. Darwin's current regional land use plan means that the majority of LWT in the Darwin area (outside of Charles Darwin National Park) will be lost through clearing.
The North Darwin Wildlife Corridor (Lee Point to Shoal Bay section) still functions but the South Darwin Wildlife Corridor (Charles Darwin NP to south of Palmerston section) is believed to be failing. These sections are described as wildlife corridors because they allow small mammals to move into and out of Darwin's parks/reserves.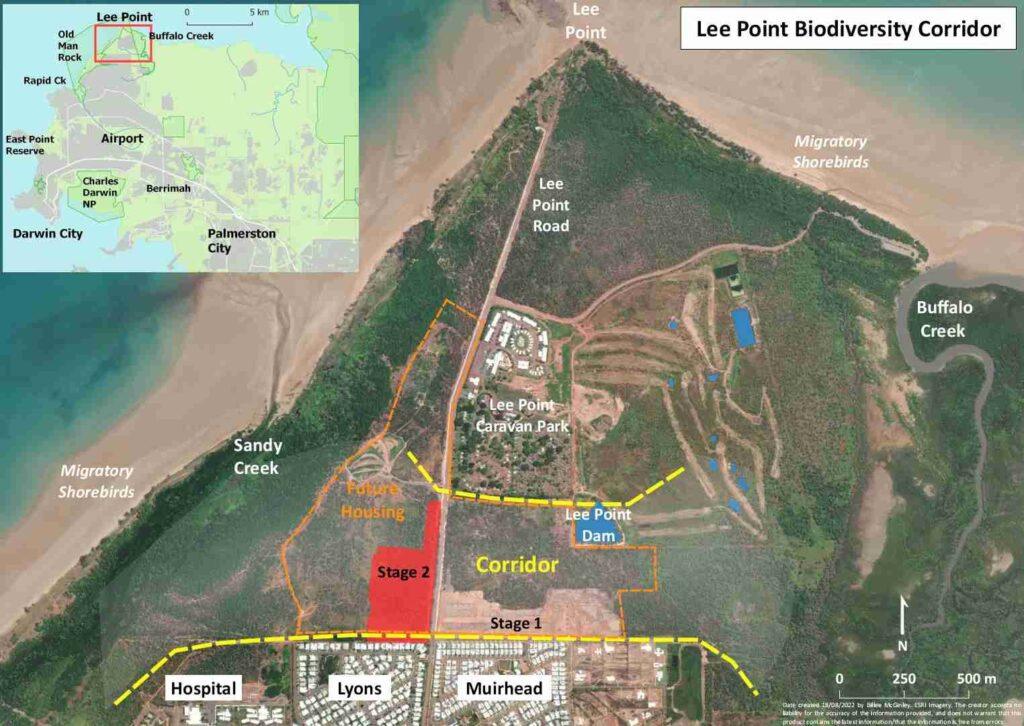 Map showing DHA Stage 2 (red) and extent of clearing works (orange)
The planned DHA development at Lee Point will remove 70% of large woodland trees from Lee Point and a significant number from the North Darwin Wildlife Corridor. Lee Point is crucial for the long term success of the North Darwin Wildlife Corridor and the Territory's most popular reserve, Casuarina Coastal Reserve.
Most people prior to 2020 were unaware of the DHA development or that the 2015 Notice of Intent (see Sec 2.2.2) had buildings up to 12 storeys high proposed for Lee Point. Please sign this NEW PETITION to help relocate the DHA development to a suitable area.
Additional Information
Large woodland trees are typically > 100 years old. For more information on where they are in Darwin/Palmerston area, refer Darwin's large woodland trees – a preliminary study.
Based on current trends, many native mammals will become extinct in northern Australia in the next 10-20 years, and even the largest and most iconic national parks in northern Australia will lose native mammal species. This problem needs to be solved – refer Into Oblivion? The disappearing native mammals of northern Australia
Lee Point Development
The federal minister Tanya Plibersek confirmed on ABC Darwin Radio that Lee Point has Gouldian Finch habitat.
This is good news for the Gouldian Finch and all the other species that use hollows in large woodland trees. A decision is to be made by the Australian Government once all the scientific and other information has been properly considered. FLP are providing additional information.
Planning for Lee Point is needed before any major development happens at Lee Point.
3.0 Quiz
Q1. What location(s) have more bird species than Kakadu National Park? Answers at the end.
A. Marrakia/Black Jungle/Fogg Dam/Harrison Dam Reserves (500 sq km)  
B.  Litchfield National Park (200 sq km)        
C. North Darwin Wildlife Corridor (Lee Point to Shoal Bay – 27 sq km)        
D. Charles Darwin National Park (11 sq km)
E. Lee Point (part of North Darwin Wildlife Corridor (5 sq km)
4.0 Colour of the year 2023
Pantone's colour of the year is Magenta Viva. These (red) Gromphrena flowers closely match the Magenta Viva colour.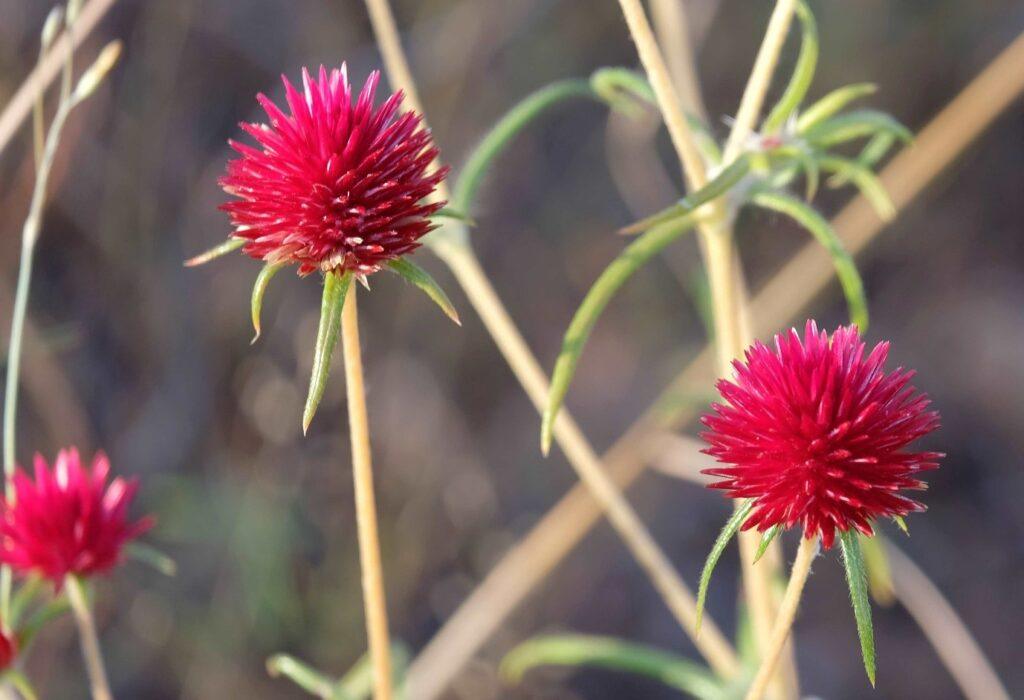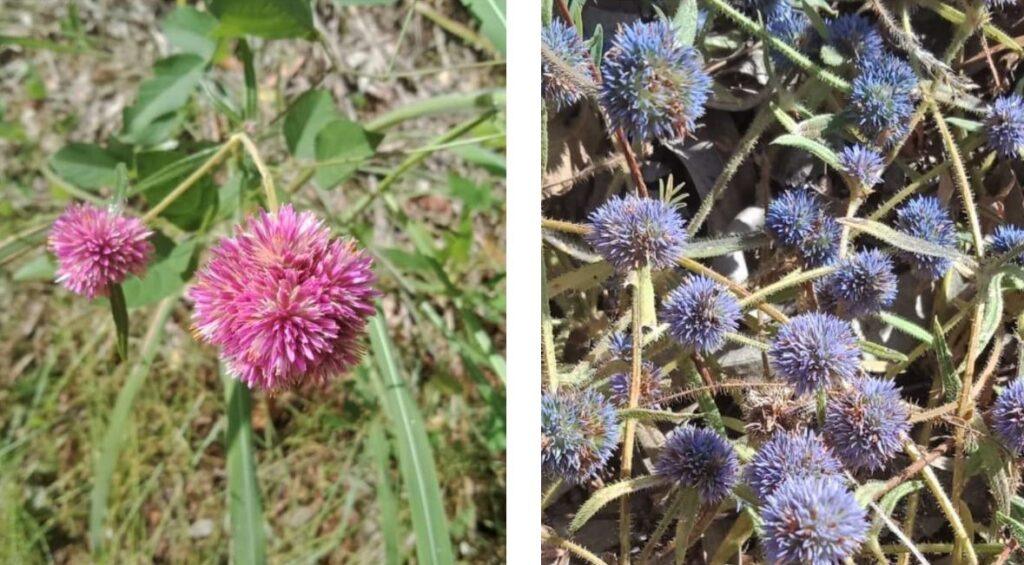 Gromphrenas flower in the dry season (Apr – Aug)
Being in the Lee Point Biodiversity Corridor (see Map) these Gromphrena plants face an uncertain future. For more colours go to; Images from Lee Point Biodiversity Corridor.
5.0 Plants and wildlife
May was a good time for wildflowers, butterflies and wood swallows – photos taken at Lee Point May 2023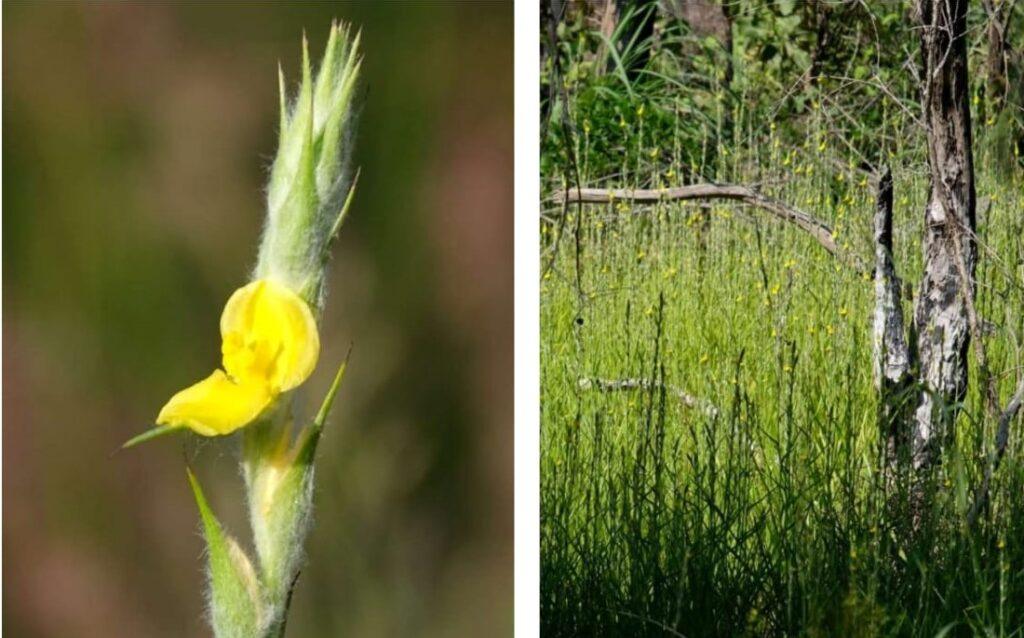 Frogmouth water lilies appear at the end of the wet season.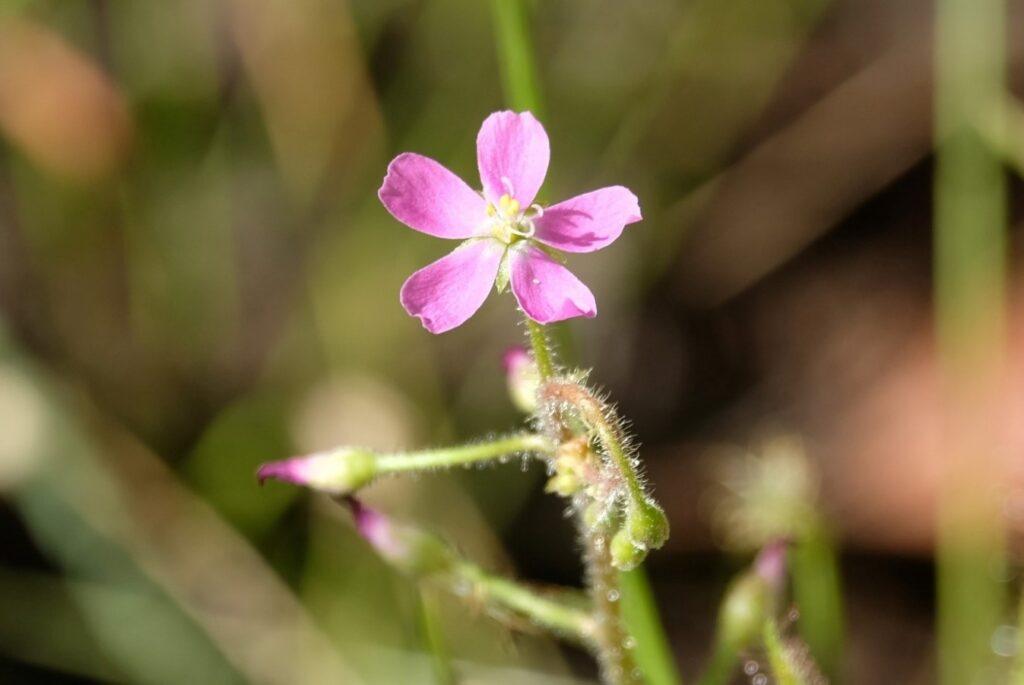 Sundews (carnivorous plants) rely on insects for nutrition.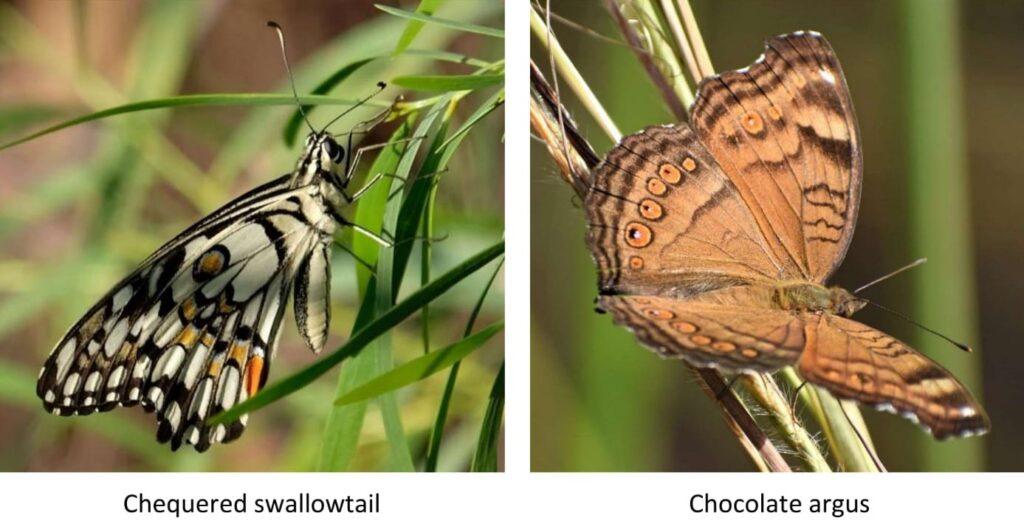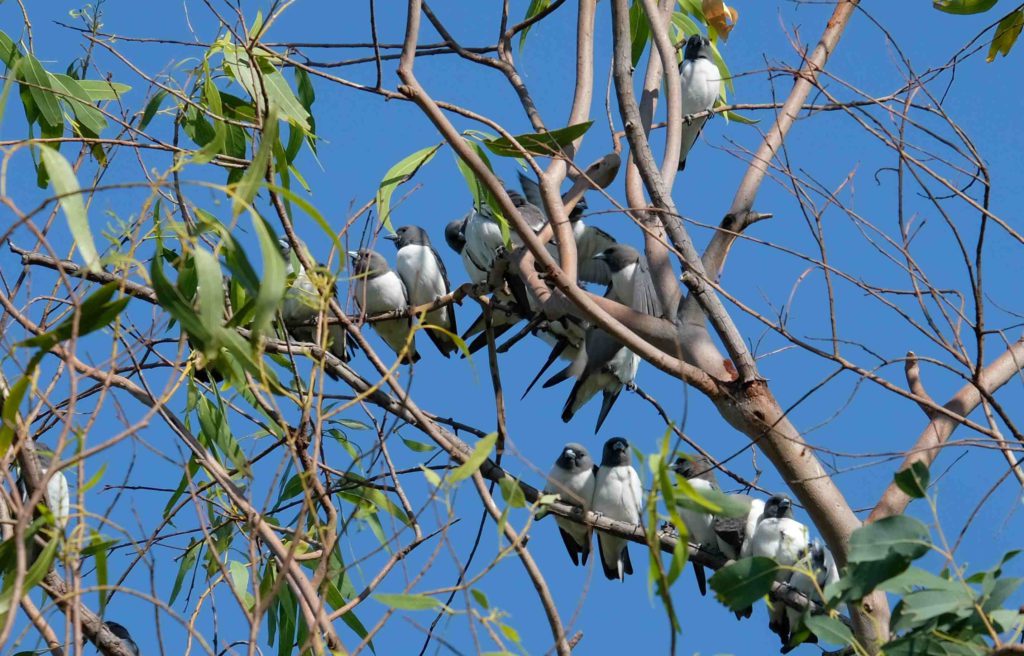 White-breasted Woodswallows
White-breasted woodswallows mark the arrival of the dry season. Some claim their arrival from down south is a more reliable indicator of the dry season than dragonflies.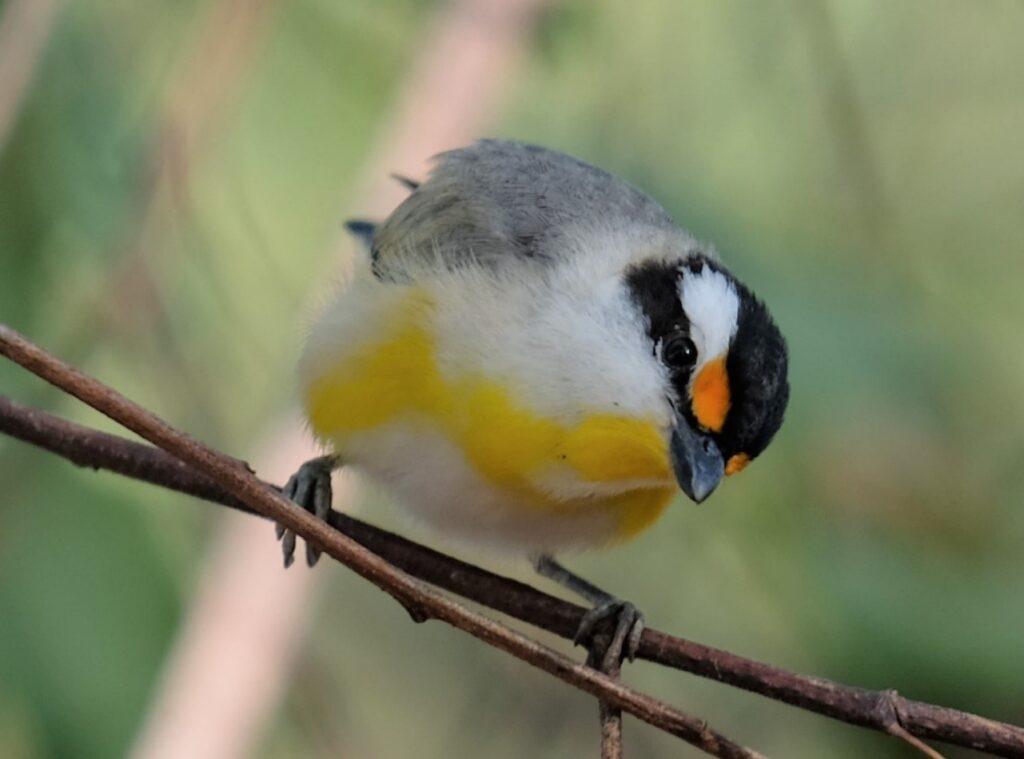 Striated Pardalote
Striated pardalotes were active this month. They spend most of their adult lives in woodland trees and start their lives in burrows. This one was curious about the camera.
The migratory shorebirds have left. Come and join BirdLife Top End at the Deckchair Cinema for a special screening of the new movie Flyways – The Untold Story of Migratory Shorebirds. 7pm Wednesday 14 June, Deckchair Cinema. Trailer: https://www.flicks.com.au/trailer/flyways/28504/
Enjoy the dry season at Lee Point
Answers to Quiz
Answer Q1 – C. North Darwin Wildlife Corridor (Lee Point to Shoal Bay).
North Darwin Wildlife Corridor (27 sq km) recorded slightly more bird species than Kakadu NP (19,000 sq km) in the past ten years. Bird species results from Birdata are:
Kakadu NP                                        246
Lee Point                                           229