Greetings Friends,
This newsletter includes; Bulldozers at Lee Point, experts call for a halt to Lee Point development, Gouldian Finches, Darwin's disappearing woodland and turkey bush.
Please send a letter to the people that can stop DHA bulldozing Lee Point using these links:
Assistant Defence Minister Matt Thistlethwaite
Environment Minister Tanya Plibersek
1.0   Bulldozers at Lee Point with people arrested
Lee Point has had a bad week with part of Stage 2 bulldozed and 14 people arrested. This left Larrakia people and the Darwin community who witnessed the destruction devastated. Channel Nine TV ran this story.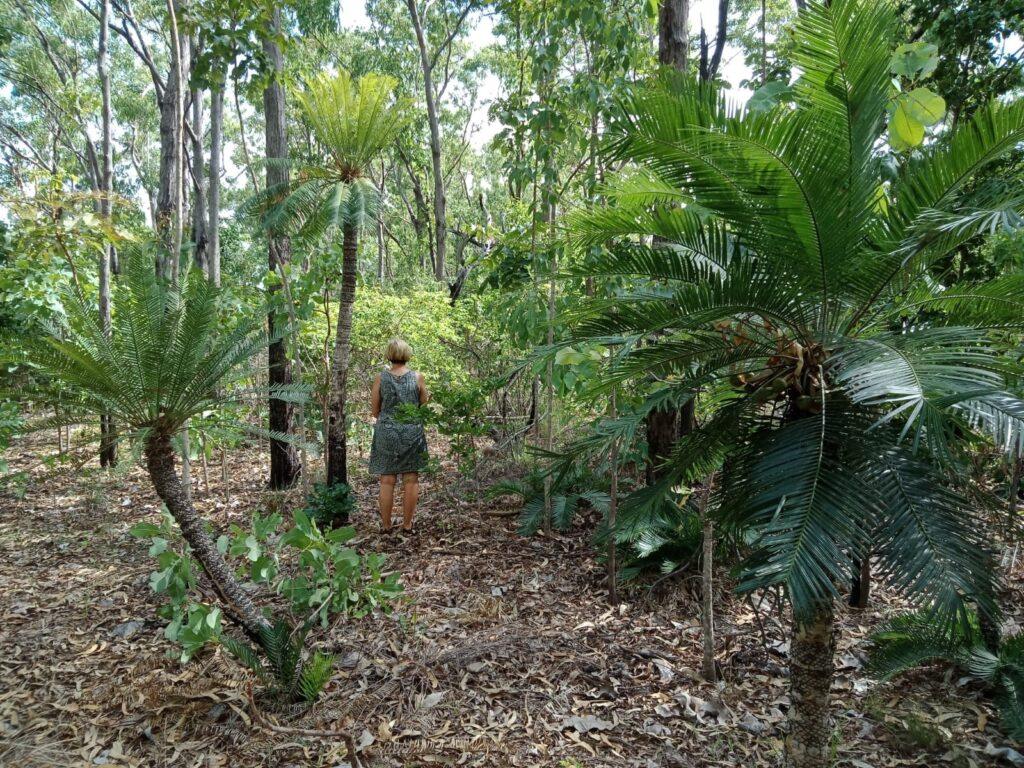 Stage 2 area before it was bulldozed.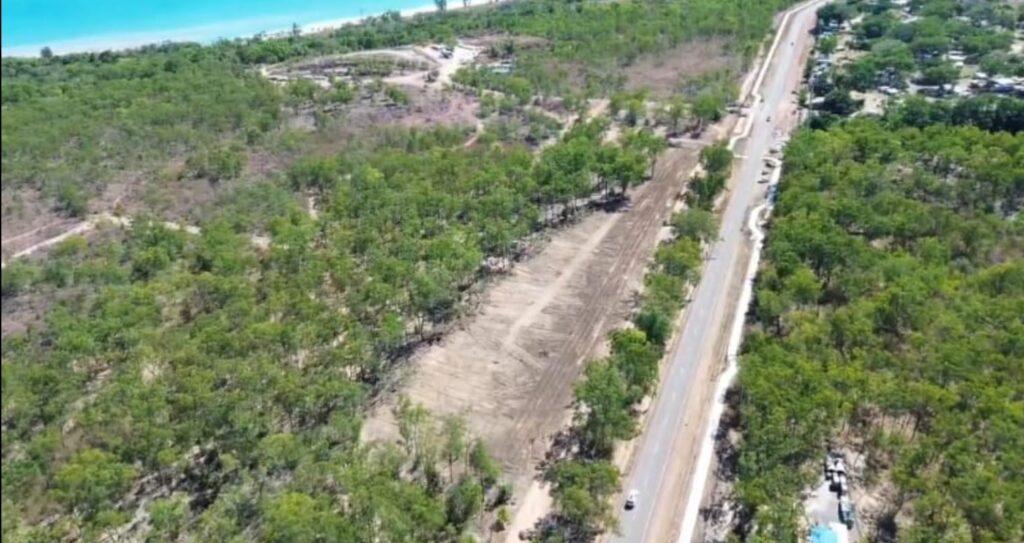 Stage 2 area after bulldozing on 6 July 2023.
Over 300 experts have called for an immediate halt to the defence housing development at Lee Point –

media release

.
Lee Point (Binybara) has always been an important meeting place for aboriginal people and its rich biodiversity has provided food. It contains many special sites for the Larrakia people.
Larrakia traditional owners have made an emergency application to Environment Minister Tanya Plibersek to stop land clearing at Darwin's Lee Point, on the grounds of protecting Aboriginal cultural heritage… read more. Environment Minister Plibersek has agreed work will stop until July 17 as she considers the application.
Bob Brown has called on Tanya Plibersek and Anthony Albanese to save the Gouldian Finch at Lee Point and the Guardian had this to say.
2.0 Darwin's disappearing old growth woodland trees
Old growth woodland trees, typically Darwin stringybarks, woollybutts and bloodwoods over 35cm in diameter, are important because they contain tree hollows. Without these old trees many of our native species will not breed.

The Sugar Glider and Red-tailed Black Cockatoo rely on old growth trees (tree hollows).
Having old growth woodland in Darwin makes life better for people and wildlife. Darwin's current regional land use plan means that the majority of old growth trees in the Darwin area (outside of Charles Darwin National Park) will be lost through clearing.
This paper, Lee Point: protecting critical habitat and Darwin's last wildlife corridor explains why Lee Point is important to the ecology of Darwin. It was provided to the Australian Government on the 19 June 2023.

Meeting at Lee Point on 2 July with Larrakia, ECNT, Birdlife Top End and Friends of Lee Point with Graeme Sawyer – Biodiversity Watch speaking.
People from Larrakia speaking. Nick Kirlew (on the right) from Planning Action Network was the MC.
The planned DHA development at Lee Point will remove 70% of old growth trees from Lee Point and a significant number from the North Darwin Wildlife Corridor. Lee Point is crucial for the long term success of the North Darwin Wildlife Corridor and the Territory's most popular reserve, Casuarina Coastal Reserve.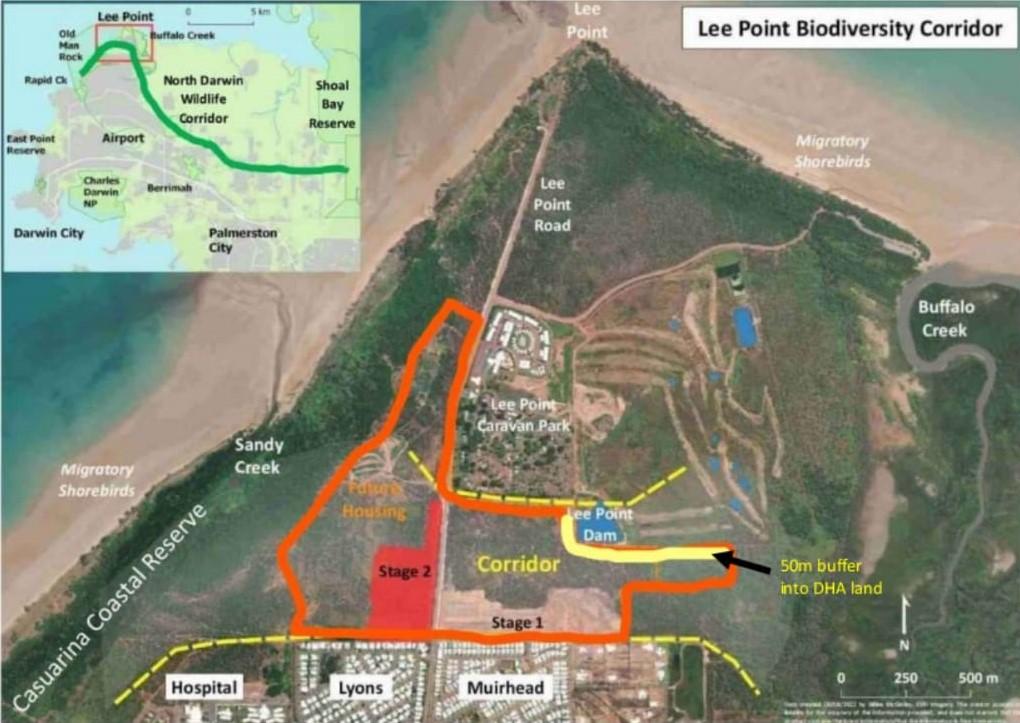 Map showing DHA Stage 2 (red) and extent of clearing works (orange), 50m buffer for Gouldian Finch (yellow line).
There are many questions left unanswered about the Lee Point development, some are:
Given Lee Point's cultural significance to the Larrakia people why weren't Larrakia properly consulted on the Lee Point development?
Lee Point is one of the most important natural assets that Darwin has yet less than 15% of Darwin's northern suburb residents knew a development was happening at Lee Point prior to 2020. Why weren't Darwin residents consulted?
The (independent) NT Planning Commission was set up in 2012 by the NT Parliament to do Area Plans. Why weren't they involved in the Lee Point Area Plan?
The Australian taxpayer wholly owns Defence Housing Australia. Where is the benefit-cost study that indicates that Lee Point is a better site for the taxpayer than other sites?
Planning for Lee Point is needed before any major development happens at Lee Point.
Please see section 1.0 of this newsletter on what you can do to stop this disaster.
3.0  Gouldian Finches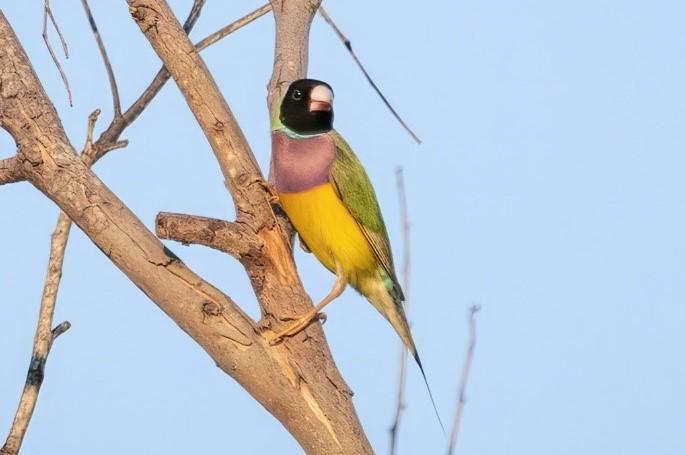 Gouldian Finch near Lee Point Dam 1 July 2023
There were self-guided walks around Lee Point Dam in June with more planned – please check FLP Facebook Page for details. Some Gouldians have been seen at the dam but they have yet to arrive in numbers, see sightings.
4.0  Quiz
Q1. When did the oldest (living) old growth woodland tree first sprout at Lee Point. Assume a 2mm diameter growth rate per year.
A. 210 years ago – sprouted 1813
B. 280 years ago – sprouted 1753
C. 350 years ago – sprouted 1673
D. 420 years ago – sprouted 1603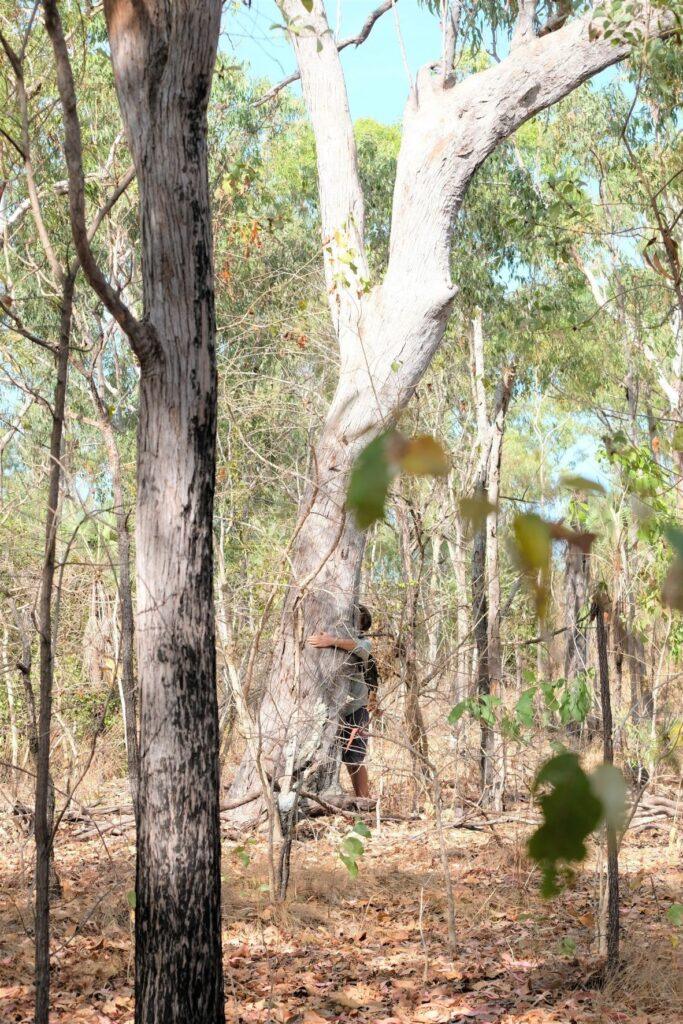 An old growth Darwin stringybark tree in Stage 2 that escaped being bulldozed.
5.0 Plants
June is a good time for turkey bush. The leaves and flowers have a pleasant fragrance when crushed and have been used by aboriginal people to treat wounds.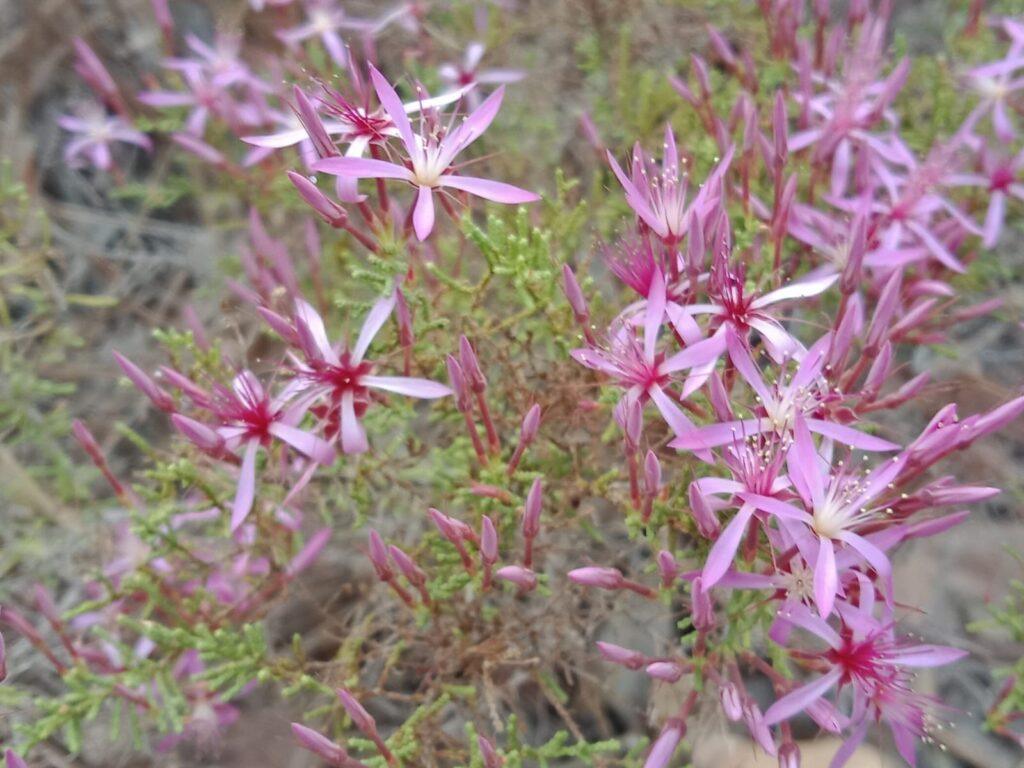 Images from Lee Point Biodiversity Corridor has more images of flowers.
Enjoy the dry season at Lee Point
Answers to Quiz
Answer Q1  D. 420 years ago – sprouted 1603.
For Lee Point, the largest old growth tree recorded so far is an 84cm bloodwood. In their natural habitat these trees only grow in the wet season with growth rates in the range 1.6 – 2.0mm. However, they can grow much faster where they have access to water year round ie. a home garden. Old growth woodland trees over 50cm diameter are uncommon.
For Stage 2, the largest old growth tree (by type) is: bloodwood 70cm, stringybark 62cm, woollybutt 61cm (bulldozed 6 July 2023). These trees were here 50 years before Captain Cook landed on Australia.