Greetings Friends,
This month; People's Choice Award prize winners were announced, many people saw Gouldian Finches at Lee Point that prompted ECNT to commence a petition to the Australian Government on protecting Gouldian Finch habitat and Lee Point.
1. Peoples Choice Awards – "What you like about Lee Point"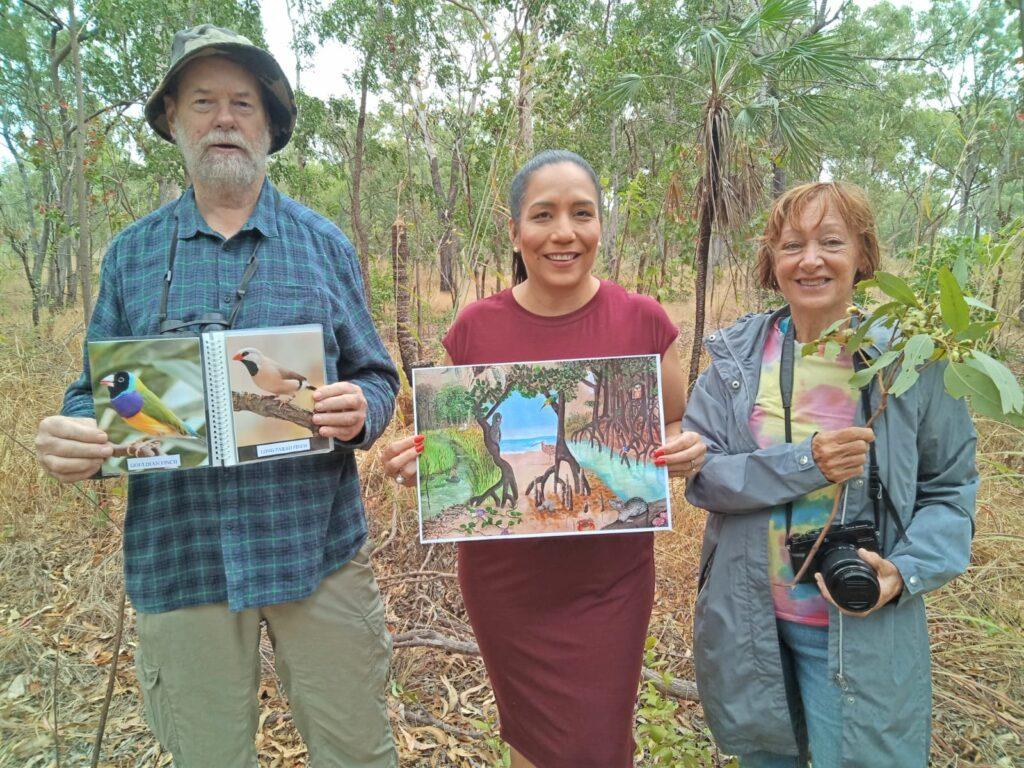 People's Choice Award (5) prize winners were announced at Lee Point by City of Darwin Alderman Rebecca Want De Rowe with organisers Gayle Laidlaw and David Percival.
First prize went to Alesha Hakanson for Natures Window. View the prize winners, award ceremony and all entries.
2. Lee Point Housing Development
The Australian Government wholly owns the developer, Defence Housing Australia (DHA), and the land that is planned to be bulldozed at Lee Point. The crucial question on who benefits from the (taxpayer funded) Lee Point development remains unanswered.…. read more.
Lee Point Development – NT Government Approval Status
| | | | | | |
| --- | --- | --- | --- | --- | --- |
| NT Govt Approvals (as of 29 June 2022) | Stage 1 North of Muirhead (97 lots) | Stage 2 North of Lyons | Stage 3-5 North of Lyons | Stage 6-7 North of Muirhead | Stage 8 North of Lyons |
| Planning | Yes | Yes | Yes | Yes | Yes |
| Construction | Yes | No* | No | No | No |
*To date, DHA has not lodged an application with the NTG for construction of Stage 2 or any other Stage.
3. Environment Centre NT (ECNT) requests a pause to works at Lee Point
The last environmental assessment had Gouldian Finches "unlikely" to occur in the development area – this is not the case now. ECNT has requested that Minister for Environment – Tanya Plibersek pause work while an assessment on Gouldian Finches is made. There is now a petition running, please sign the Save the Gouldians petition
4. Lee Point Trivia
Darwin could be called the City of Birds. This stems from places like Lee Point. Lee Point peninsular has approximately one quarter of Australian bird species or 80% of the bird species of Kakadu, and nearly half the Australian finch species (8 out of the 17).
The Gouldian Finch is regarded by many to be the most beautiful finch in the world. It is now commonly seen at Lee Point much to the delight of locals and tourists who visit Lee Point.
Q1. Pick the real Gouldian Finch. Answers at the end.

A. 1 and 2                    B. 2                  C. 2 and 3                    D. 2 and 4       
5. Lee Point Corridor and Ecosystem Engineers
The Lee Point  Corridor contains most of the habitats found in the Top End and these habitiats have been connected for a long time, probably thousands of years. Despite some clearing, the majority of the Corridor has a rich biodiversity of plants, fungi and animals.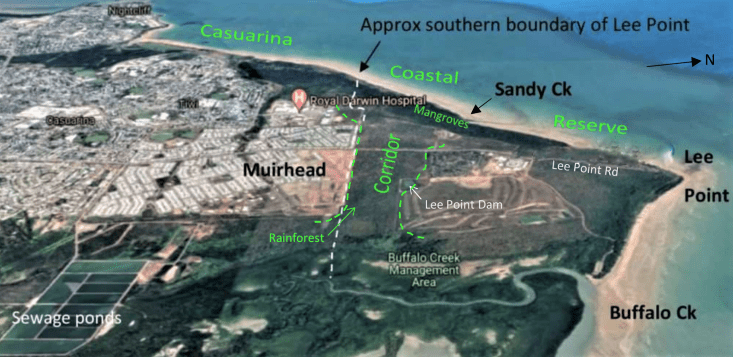 Ecosystem engineers (below photos are from the Corridor).
All species affect the habitat they live in, some more than others. Those that have the greatest impact on ecosystems have been coined "ecosystem engineers". Some are critical for maintaining healthy ecosystems and others can rapidly modify native habitats.
Ecosystem engineers at the Corridor (in kingdoms);
Plants – Gamba Grass. Mission Grass and other invasive weeds.
Fungi – numerous species (not well researched)
Animals – People, Bees, Termites, Cats and Cane Toads.



Bees – are the single most important pollinator. Around two thirds of flowering plants require pollination by insects, without pollination they could not reproduce.
Termites – play an important part in breaking down organic matter.
Cats and Cane Toads – are invasive species that kills benefical native wildlife.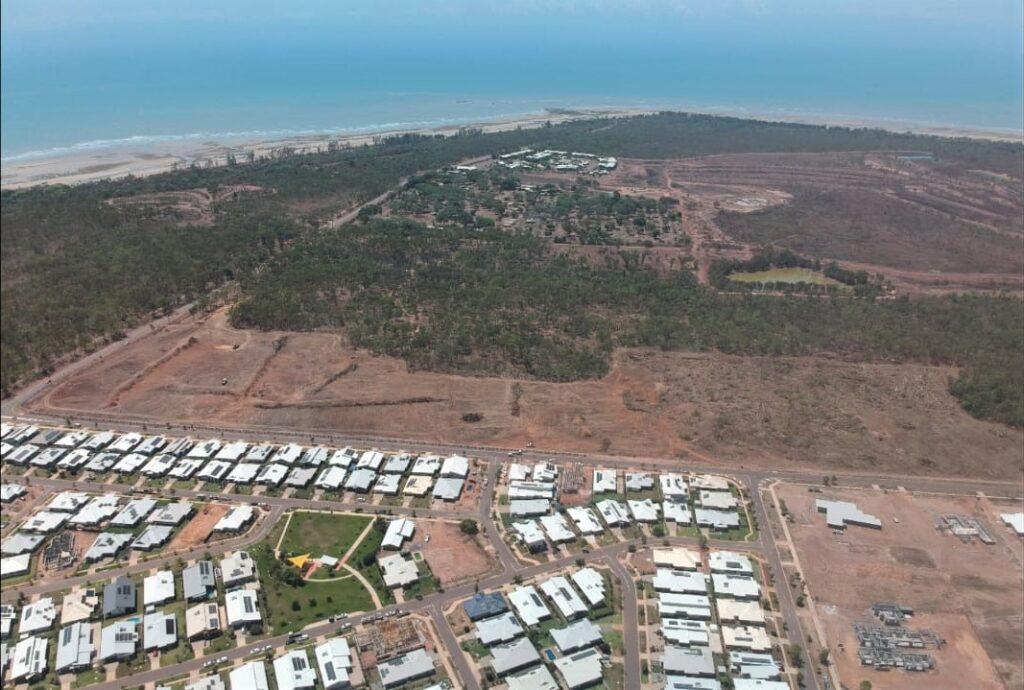 People – can cause major deforestation (Stage 1 clearing at Lee Point above). After fossil fuel burning, deforestation is regarded as the second largest contributor to carbon emissions (from human activity). Global warming from carbon emissions modifies habitats. People working for groups like the Gamba Army can control/eliminate Gamba Grass (with adequate resources) and help maintain healthy native ecosystems.
6. Endangered Finches in the Lee Point Corridor
The rare and beautiful Gouldian Finch was regularly sighted this month at Lee Point Corridor along with many other birds. This Post has a summary of sightings and media reports.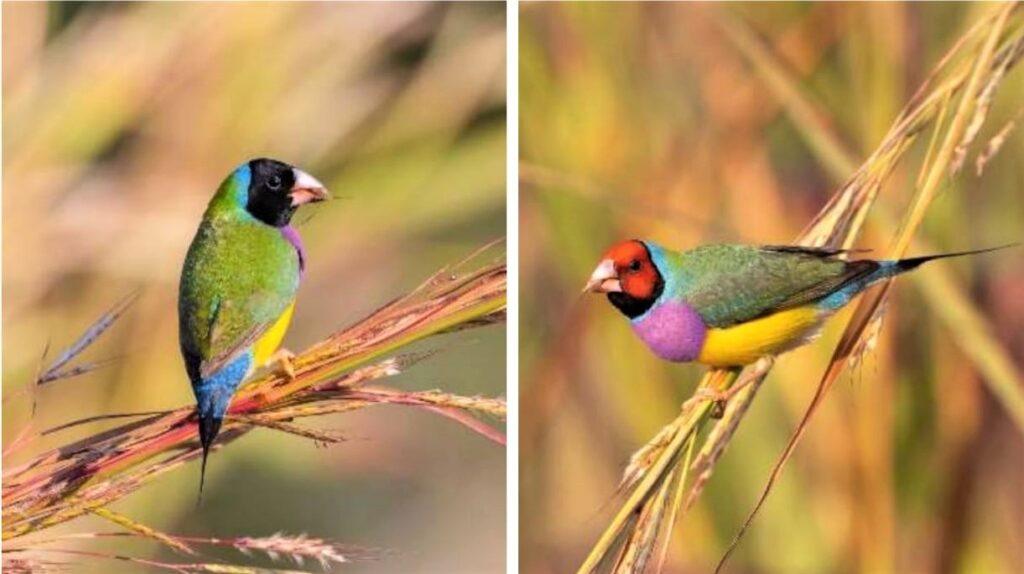 Gouldian Finches have either black, red or yellow faces (the yellow is rare). They nest in small hollows in trees and are listed by the Australian Government as endangered.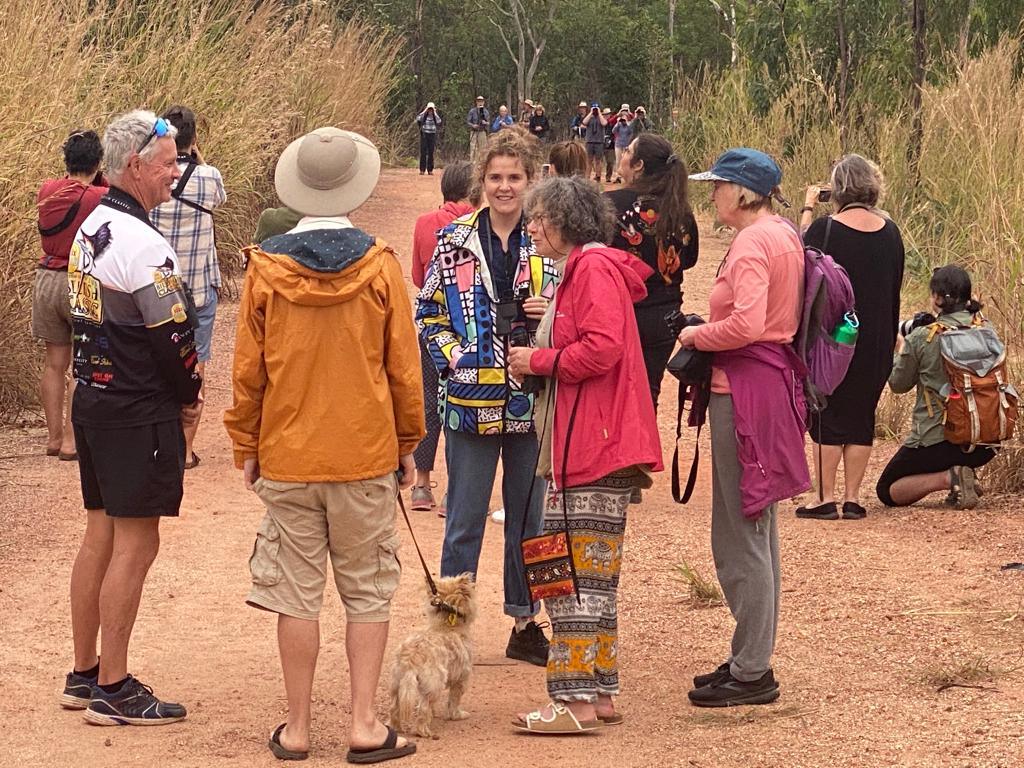 Gouldian Finches have attracted hundreds of locals and tourists to the Corridor each week including this NT bird tour group. People were excited at seeing this rare finch –  see video.
FLP ran two events (11 June and 22 June); both had over 100 people attend. Many thanks to the local birdwatchers who managed to show nearly everyone the Gouldian Finches. Some birdwatchers have seen the Gouldians courting and looking for tree hollows.
7. Flowering plants in the Lee Point Corridor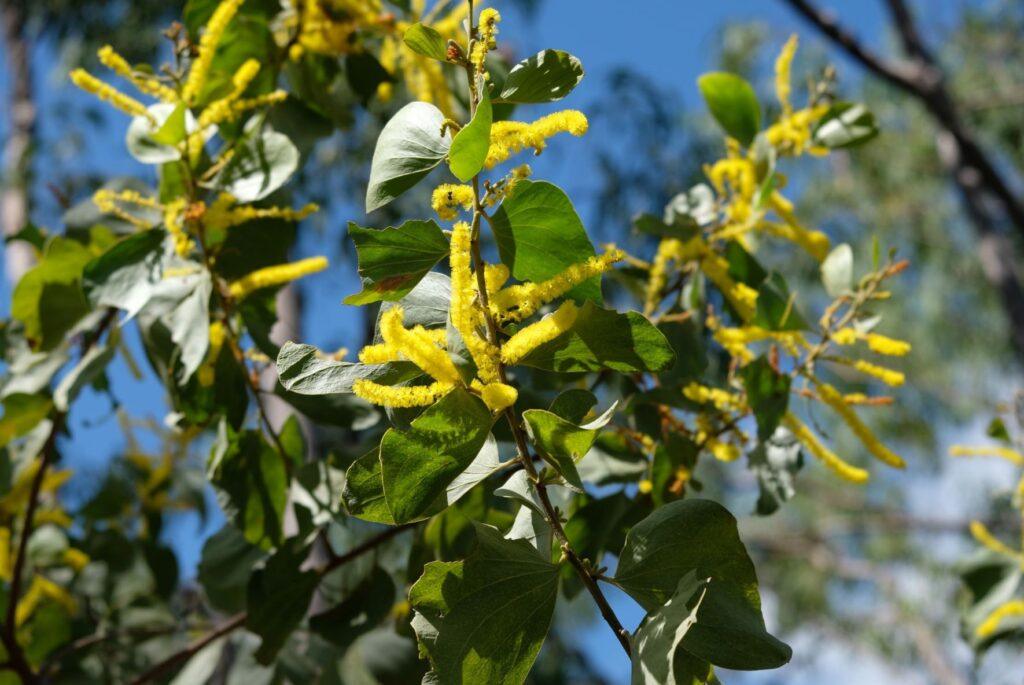 Wattles (Acacias) are Australia's largest genus of flowering plants with almost 1,000 species found.

Turkey Bush is common in disturbed gravel areas; its crushed leaves have a fragrant aroma. The Red Flowering Kurrajong is City of Darwin's floral emblem.
Until next time, enjoy the Dry Season at Lee Point
Answer Q1.        C. 2 and 3.          
1, Masked Finch, 2. adult Gouldian Finch, 3. juvenile Gouldian Finch, 4. A mural in Darwin CBD, Gouldians are not 2m high or always face north – the real Gouldian Finches are found at Lee Point.