ADDRESS
Date
Senator, the Hon. Simon Birmingham
Minister for Finance
Parliament House
Canberra ACT 2600
Dear Senator
Urgent request to halt clearing works at Lee Point – Darwin, NT
We write to you as long-term residents of Darwin who have continuing concerns regarding Defence Housing Australia (DHA) housing thousands of people at Lee Point. By way of introduction, I am a retired NT Government chartered civil engineer and my wife is a retired school teacher and members of Friends of Lee Point (a community-based group).
As one of the two shareholders of DHA, we are asking that you intervene as a matter of priority to halt the current clearing works at Lee Point so this development can be properly considered by the NT Parliament.
No long-term social or economic benefits have been identified in reports by government for the Lee Point development. The only justification offered is an environmental report and clearing one square kilometre at Lee Point can hardly be construed as a public benefit.
We believe that future Australian Defence Force personnel would be better and more affordably housed at Northcrest (or similar location), see map below. This is due to its central location and closeness to the major defence sites (shown in grey).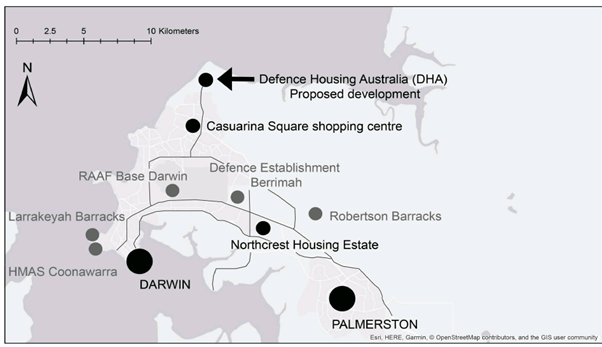 Lee Point is not near the defence bases, existing infrastructure or public transport. It does not fit with the Australian Government's Smart Cities Plan that encourages housing to be located near jobs and transport.
Most Darwin residents did not know about this development prior to 2020 and very few people support the development. People from Larrakia (Darwin's indigenous people) Tibby Quall (elder) and Nadine Lee have also spoken out against it. The majority of City of Darwin aldermen (on recent election) also support an immediate halt to DHA works at Lee Point.
There are too many things wrong with this development from an economic, social, and environmental perspective to list here. The two attachments provide more details;  Planning for Lee Point, Darwin NT – Save Lee Point and Improving the cost benefit of future defence housing in Darwin – Save Lee Point
It's time that a proper urban planning study was done for Darwin's northern suburbs and yes, it is remiss of the NT Government not to have done this. However, we are a Territory (not a state) and still developing our urban plans. A petition, containing over 2000 signatures, will be presented to the NT Parliament by Friends of Lee Point later this year asking for a moratorium on current development until a proper plan can be developed for Lee Point. Additional information can be found at www.saveleepoint.org.au and Friends of Lee Point Facebook page.
We hope you will support us in this important matter for Darwin and thank you for taking the time to read this letter. A short email from your office is all that we require in response to this letter.
Yours faithfully
 Ian Redmond              Gayle Laidlaw 
Cc        Hon. Andrew Gee MP (as the other DHA shareholder)
NT Representatives: Senator Sam McMahon, Senator Malarndirri McCarthy, Hon. Luke Gosling OAM, MP