The NT Government is developing a 30-year plan for its parks and has invited submissions:NT Parks Masterplan 2022 – 2052 | Have Your Say Northern Territory
This a draft response, please feel free to use and amend the information here in your submission. Submissions close 15 Oct 2021.
1.0    Background
There are very few cities in the world that have a reserve like Lee Point on their doorstep. It makes Darwin a special place.
Lee Point is enjoyed by families, nature lovers, mountain bike riders, birdwatchers, fishermen, campers, bush walkers and tourists. It offers unique recreation and tourism opportunities to promote Darwin and is one of Darwin's most important natural assets.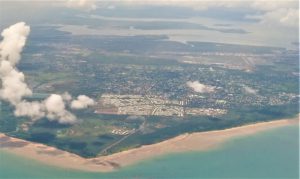 Lee Point is located 17 km from Darwin's CBD on a five square kilometre peninsular which has helped conserve its natural beauty and biodiversity.
2.0    What makes Lee Point special is:
High value to locals and visitors – it contains over half of Casuarina Coastal Reserve (CCR). CCR attracts over one million visits each year (Appendix – Ref 1) and is the most visited park/reserve in the NT because of its natural beauty, biodiversity and accessibility.
Biodiversity – habitats range from beach, mangrove, open eucalypt forests, paperbark forests, rainforest, and include internationally significant migratory shorebird sites. It is home to a number of threatened species and attracts about 80% of the bird species found in Kakadu (which is 4000 times larger in area).
Cultural and heritage aspects – it contains a very important cultural site for the Larrakia people – Dariba Nungalinya (Old Man Rock). Lee Point played a significant role in the defence of Darwin and has historical defence relics.
Tourism potential – it could provide valuable employment opportunities for local indigenous people through ecotourism – the fastest growing sector of the world tourism market. About 50% of Lee Point can be used by the public at present but this could be expanded to 90%.
For more info on planning for Lee Point refer to: Planning for Lee Point, Darwin NT – Save Lee Point
For what Friends of Lee Point would like to happen refer to: Lee Point Area Map and proposed reserve expansion – Save Lee Point
3.0  Specific Benefits of including the Lee Point central area into a reserve
The map below has seven sites which are referred to in the following section.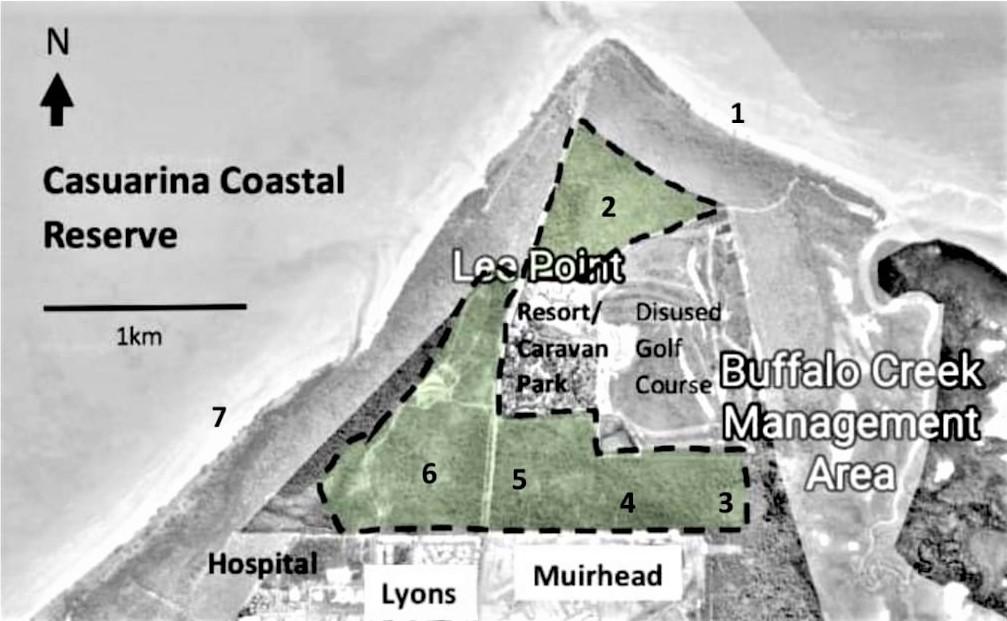 Simplifies management of CCR and Buffalo Creek Management Area Reserve.
Lee Point is on a peninsular with one road in / out and this makes managing the whole area easier. Adding Lee Point central area to CCR and Buffalo Creek Management Area allows the whole peninsular to be managed. This allows for a more effective management of invasive species such as weeds and cats.
There are already significant issues with dogs interfering with the internationally significant shorebird sites (sites 1 and 7) and feral cats. If the planned housing developments at Lee Point proceed these problems will be much more difficult to manage, take more resources, and severely impact (or make impossible) the specific benefits outlined below.
Social Benefits
Many people use the Lee Point Peninsula for a variety of wellbeing activities such as biking, walking, running and fishing. There are numerous bike tracks (site 6) which connect with the CCR trails that are regularly used. These could be expanded into areas which are underutilised (Site 1 and disused golf course). Community groups have connected with nature at Lee Point through dance and yoga groups. The importance using Lee Point for wellbeing activities were clearly demonstrated during the time of the Covid pandemic.
School groups could use areas for science, geography and history. Aboriginal Rangers could assist with education. Camping and other activities could be promoted once the peninsular is managed as a whole.
Part of City of Darwin's Greening Darwin Strategy is about protecting and retaining trees to keep Darwin cooler (break up urban heat islands). Muirhead was assessed by the CSIRO as having the highest heat vulnerability index (risk of heat stress) – link. Including the Lee Point central area into a reserve, in particular the biodiversity corridor (adjacent to Muirhead) between Buffalo Creek and CCR would assist in cooling Muirhead and Lyons.
Adding the Lee Point central areas to adjacent reserves conserves biodiversity and enhances visitor experience.
Apart from the marine and mangrove habit, the Lee Point central area and CCR share similar habitats. However, the central Lee Point area contains:
Better examples of old growth open forest (site 5), cycad stands (Site 4)* than CCR.
Bird species such as Finches and Wrens appear to be more common in the central area. Immature Gouldian finches were sighted earlier this year near the dam.
Sundews which grow on the sandy soils (north of site 4).
Monsoon Rainforest (site 3)* is the only rainforest in CCR and Lee Point.
Freshwater dams that attract water birds.
*Unfortunately, the best stand of cycads and some of the old growth open forest were recently bulldozed but good examples still remain. The top part of the rainforest also appears to have been affected by recent bulldozing work.
Eco-tourism
This was the fastest growing sector of the world tourism market (prior to COVID). The Lee Point peninsular offers tourists with limited time a Top End nature experience. Having people stay longer in Darwin is good for Darwin businesses. Ecotourism will only be effective at Lee Point if the peninsular is effectively managed, and this means developing Lee Point in such a way that supports ecotourism.
Nature – Community groups, such as the NT Naturalists, conduct regular nature walks through different parts of the Lee Point area during daylight but also enjoy nocturnal experiences, and Birdlife TopEnd already encourages people to view migratory shorebirds.
Art Trails – have been used effectively in Western Australia's southwest. The Swabrick art loop trail exhibits free to view contemporary art in pristine forest. The town of Northcliffe in WA charge an entrance fee to a fenced area of local and international sculptural works (called "Understory") on pathways through pristine bush. The sculptures interact with the natural environment. Both areas attract people to the region. Traditional and contemporary Indigenous sculptural artworks as well as local could be set up along art / nature trails to draw visitors and others to experience a globally recognised art culture.
4.0  Summary:
Casuarina Coastal Reserve (CCR) is the most visited Park / Reserve in the Territory (over one million visits per annum) and visits are increasing over time.
Expanding the Casuarina Coastal Reserve to encompass the whole of the Lee Point Peninsula (except the Lee Point Resort/caravan park) will conserve the biodiversity of Lee Point, enhance visitor enjoyment, promote eco-tourism and protect the quality of life of future generations.